We're Bristol's best one-stop-shop for all of your printing needs
About Us
Minuteman Press Bristol provides solutions for all of your marketing and communications requirements.
We've got more than 20 years' experience in fulfilling all kinds of print – including leaflets, business cards, business stationery, flyers, menus, price lists, cards, envelopes, posters, books, magazines, and so much more.
We're also a one-stop print centre, helping you with graphic design and even web design, to make sure all of your materials look their best.
Whether you need short or long print runs, large format posters or tiny items like bookmarks and appointment cards, we can help.
If you need professional print services in Bristol, you've come to the right place.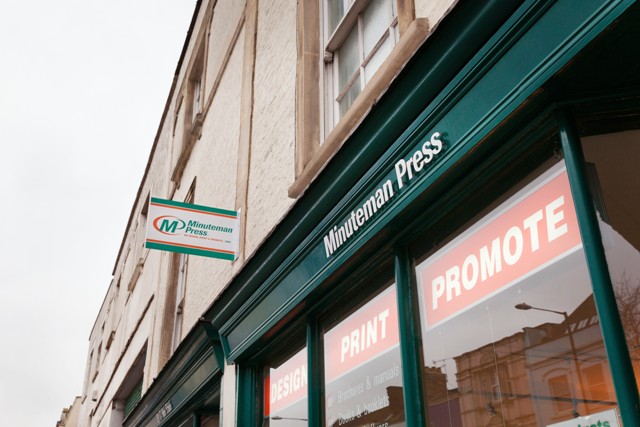 Minuteman Press operates our digital and printing press technology in-house, which means we can cater to any of your requirements, no matter the printing volume.
As a full-service print shop, we can help you with copying and duplication, binding, collating, finishing and folding, and everything else you need to make sure your print is the highest quality.
We pride ourselves on our service levels, and our team is full of talented professionals. Just take a look at our awards and achievements to see what we've been up to – from lecturing on Marketing at UWE, to moderating the UK Business Forum, our staff have plenty of credentials.
We're also committed to the environment, and we've won gold awards from Fairtrade South West Business for the last 4 years running. Check out our environmental policy for more information about how we're making sure we print responsibly.