The Bristol International Balloon Fiesta is an annual event, which started in 1979 and is usually held in early August. Participants from around the world come to take part in a series of mass ascents over a period of four days to the delight of the crowd which in recent years have been in excess of 500,000 over the whole event.
Few experiences can match the breathtaking beauty of the City of Bristol seen from the viewpoint of a hot air balloon. Hot air balloons have always captured the imagination and the majestic scene of hot air balloons cruising over the countryside without a sound is a sight to behold.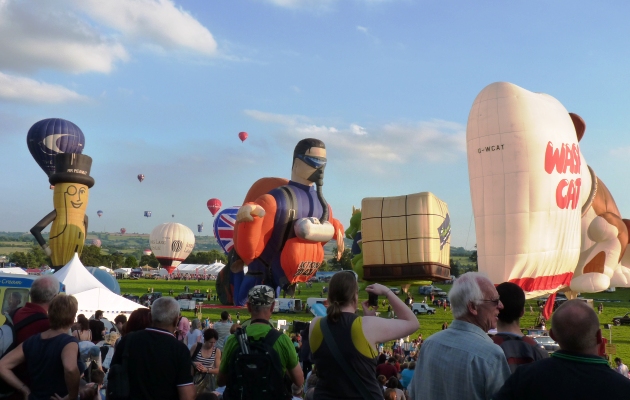 Ascents are typically timed at 0600hrs and 1800hrs, with up to 150 hot air balloons of all shapes and sizes gracing the skies above the Ashton Court Estate, the home of the Fiesta. The highlight of the event are the nightglows which occur on Thursday and Saturday nights. This involves approx 30 balloons lighting up their balloons whilst tethered, which is perfectly complimented by a stunning firework display and music in the background.
Balloons of all shapes and sizes attend the event with special shaped balloons such as Rupert the Bear and the Tesco Trolley having been some of the spectacular designs on show in previous years.
Family entertainment is also provided with delights such as fairground rides, an arts and crafts fair, local music as well as the world famous Red Arrows all in attendance.
Full details of the event can be found at the Bristol International Balloon Fiesta website.