Do you own a restaurant or takeaway or café? To effectively market your brand and attract more customers, you will need high-quality menu printing. In this blog, we go through the main reasons and what the key characteristics of a good printed menu are.
Takeaway menu printing
It should go without saying that high-quality menu printing is critical for restaurants and, even more so, takeaways. Why? Although obviously, your food, location and business model will be some of the most important variables in the success of the business, customers will also be more likely to order from you if you have a nice menu printed on high-quality paper with an eye-catching design. 
There are more food takeout options than ever before, ranging from takeaways, diners, and bakeries to cafés and restaurants. When a customer has to pick between two different restaurants to order a takeaway, things like eye-catching menus are really important. 
If you are looking to print a new menu, there are some considerations you need to make when it comes to the paper quality and finish. Takeaway menu printing is often offered with variations ranging from 130gsm to170gsm material, with gloss and uncoated paper options. Depending on your design and layout requirements for displaying your selected menu, you can choose from different folding choices and large size ranges.
Usually, the 130gsm gloss is the cheapest menu printing type and the best option if you are looking for a cost-effective solution. 
Restaurant menu printing
There are various menu options from conventional booklet-style menus to economical disposable menus for festivals and events. Choosing the right one is an important decision.
The booklet menu is often the most popular alternative. It has eight or twelve pages, making it very space-efficient. This type of menu gives you plenty of space for all the menu items, but also for more creative designs. These menus are usually of very high quality, with paper stock of 300gsm.
To help you stick to the best hygiene standards while reusing your menus, there are wipeable laminated and waterproof menu printing options that last a long time, and these are usually recommended for most restaurants. Reusable menus are popular if you are trying to save time, money, and are working to reduce your business's impact on the environment. 
The cover of a booklet menu can also have a laminate on it for longevity. You can choose between matt or gloss and A4 or A5 depending on your preference.
If you haven't designed your menu yet, our in-house designers can do it for you following your brand guidelines in a quick and effective way with a professional result. You can get in touch with our team here.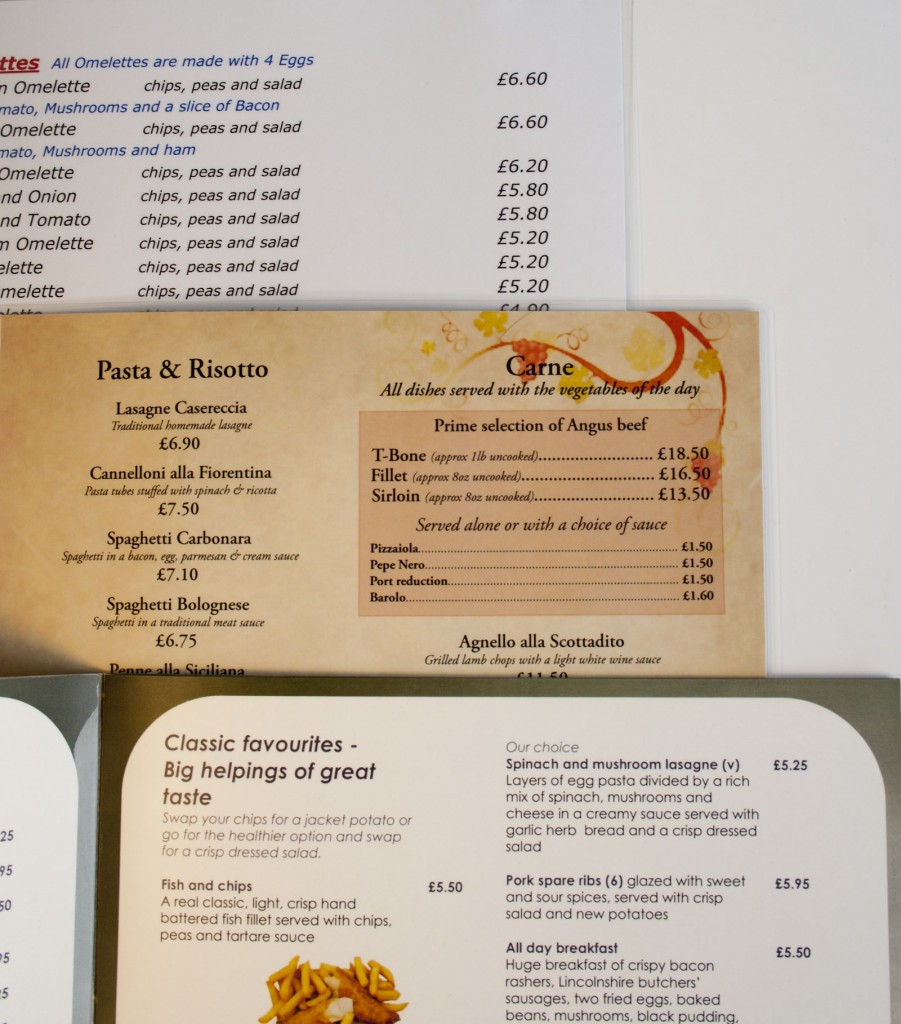 Wedding menu printing
Events call for a completely different type of menu design, which almost becomes an art form when it comes to wedding menus. The design of a wedding menu needs to match the whole style of the wedding and get all the guests excited about the event.  
You may tailor your wedding menu to your preferences and be as creative as you want. Some people choose to place the wedding menu cards among the tables or even integrate them into their wedding decorations.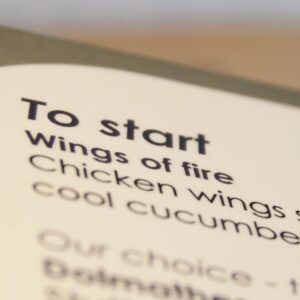 Quality menu printing in Bristol
As we've seen, selecting the best designs and printing services for your restaurants' menu or event is essential to the successful marketing of your business and to get people interested. Our design team can work with you to create the best menus for your bar, restaurant, or event. Get in touch with us and we will give you an overview of the different options and information about the prices and time frames available.