Paper and board merchants
MMP Bristol Ltd (trading as Minuteman Press) recognises and embraces its responsibility to identify and reduce adverse impact on the environment resulting from its activities. Therefore, Minuteman Press trades only with paper and board merchants (eg Antalis McNaughton Paper Limited, Premier Paper Group and GF Smith) who comply with applicable environmental legislation and requirements. The stock used by Minuteman Press is sourced from sustainable forests managed by European environmental legislation compliant organisations. Products are Forestry Stewardship Council (FSC) www.fsc.org certified and meet the requirements of the Programme for the Endorsement of Forest Certification Schemes (PEFC) Chain of Custody www.pefc.org.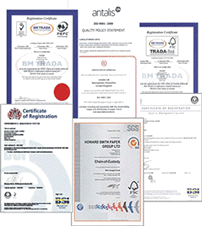 Digital press toner
Konica Minolta printer toner employed in digital printing is Simitri HD polymerised toner. Simitri HD has a significantly lower environmental impact during its production, use and recycling than conventional pulverised toner. The toner requires a lower fusing temperature and thus reduces energy consumption.
No inks are used in the digital print process.
100% of toner cartridges and bottles are recycled. All toner is non-toxic and non-hazardous.
Konica Minolta adopted IH technology to design an energy-efficient fusing unit. With conventional heating the standby temperature must be kept high to ensure a short warm-up period to the required fusing temperature. This consumes a significant amount of energy in standby mode. Heating the fusing unit by applying induction heating remarkably reduces energy consumption. The required temperature is reached much faster and can be controlled precisely, resulting in minimised energy loss.
Where available the inks used in offset printing are Pur-Bio soya based, formulated with soy and other vegetable oils. Pur-Bio is hydrocarbon solvent free. Specific Minuteman Press supplier criteria are as follows:
We've taken the decision to refuse orders for plastic bags and disposable cups – in fact, we stopped printing plastic bags back in 2006. We believe that one day all printers will adopt this policy, as environmental awareness becomes ever more important and customers demand sustainable practices. For the same reason, we stopped issuing plastic boxes for business cards in 2010.
Where possible, Minuteman Press use their electric bicycle fleet for local Bristol deliveries (non-electric bicycle deliveries since 2008), in an effort to cut down carbon emissions, reduce pollution and improve air quality. Minuteman were multiple winners of the combined (North Somerset, Bristol, South Gloucestershire and Bath and North-East Somerset Big Commuting Challenge.
Peter Wise is responsible for environmental strategy at Minuteman Press. The environment and sustainability is of special interest to Peter's background.
Peter Wise is responsible for environmental strategy at Minuteman Press. The environment and sustainability is of special interest to Peter's background.
Minuteman Press recycle 93.4% of all waste generated. The target is 100% subject to the expansion of local authority facilities.