Our Business Stationery Services
Compliment Slip Printers
Compliment slips are an important element of business stationery. They offer a concise yet effective means of displaying company details and a simple marketing message if desired. Minuteman Press Bristol are professional compliment slip printers who not only offer printing but also design.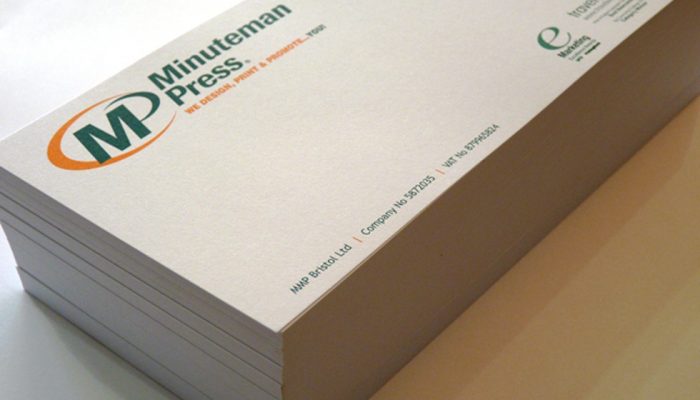 Compliment slips are typically a single 210mm x 99mm sheet, but this can vary as required. When we print compliment slips, in terms of paper stock, typically for compliment slips it is uncoated 120gsm, Conqueror or bespoke. The choice of paper stock will normally match the letterhead stock specified. The Conqueror range contains a choice of colours of which brilliant white is easily the most popular.
If you have your own compliment slip design, you may supply Minuteman Press with a digital file, which should have adequate bleeds and crop marks. This will ensure that Minuteman Press Bristol can print all the way to the edge of the compliment slip if required. Relevant files can be uploaded via the Upload files tab.
If you don't have a design file, the Minuteman Press design team will be pleased to turn your concept into a reality.
Prices below are examples. Every job is different. We can deliver anything (well almost!).
Printed on uncoated 120gsm. Prices exclude VAT.