Minuteman Press Bristol are thrilled and honoured to learn that in the Fairtrade Business Awards 2019 we have been voted Overall Winner by the Fairtrade business judging panel.
The trophy (a beautiful Bristol Blue glass hand-crafted stylised coffee bean) and certificate were presented by Nick Hewer (The Apprentice, Countdown, PR guru and so much more) to a grateful Peter Wise on behalf of Minuteman Press Bristol. Nick is a passionate ambassador and advocate for Fairtrade; he has visited international projects supported by Fairtrade and spoken fervently at Fairtrade events.
Minuteman Press Bristol were selected from a final shortlist of 50 dedicated Fairtrade businesses invited to attend the Fairtrade Business Awards. Some inspiring and influential Fairtrade category winners were recognised including the University of Bath, Lyons Davidson, the Create Centre and the University of the West of England. All have been avid contributors in the development and growth of the West Country Fairtrade network.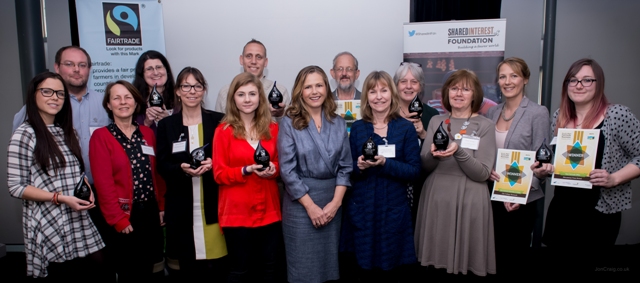 Minuteman Press Bristol have been actively involved with Fairtrade and the Fairtrade business network for the past seven years. Fairtrade is such a worthy cause for businesses to be able to practically support and make a real difference. All the team at Minuteman Press Bristol engage and contribute – be it promoting Fairtrade to customers, purchasing Fairtrade product or endorsing Fairtrade at conferences.
"It was such an honour for Minuteman Press Bristol to be recognised by Fairtrade and a colossal surprise, entirely unexpected; hence the casual attire next to Nick!" commented Minuteman Press Bristol director Peter Wise.
"A huge thrill to meet the wonderful Nick Hewer and learn about his experiences with Fairtrade. I couldn't resist confiding to him that The Apprentice is a lesser show without him", his response so characteristically modest.
Poverty should not be permitted to exist in 2019, everyone can make a practical difference by supporting Fairtrade and purchasing Fairtrade products, helping provide an income on which producers can survive, build sustainable infrastructure and grow. Why wouldn't you? Farmers are paid less than 75 pence per day, less than half the amount needed for a decent standard of life. 75 pence – how much did your coffee, newspaper or sandwich cost?