Welsummer Club
The Welsummer is a chicken breed originally from Welsum in Holland. The large dark brown Welsummer eggs were in high demand and so they were exported for the commercial egg trade. The Welsummer Club was formed in 1930 to promote the Welsummer and to represent the interests of the breed and its keepers. The club's Patron is His Royal Highness The Prince Of Wales.
In recent times an annual publication has been created for distribution to the membership. The periodical is of the finest quality and in recent years has won the Poultry Club of Great Britain award for the best breed club year book, on several occasions.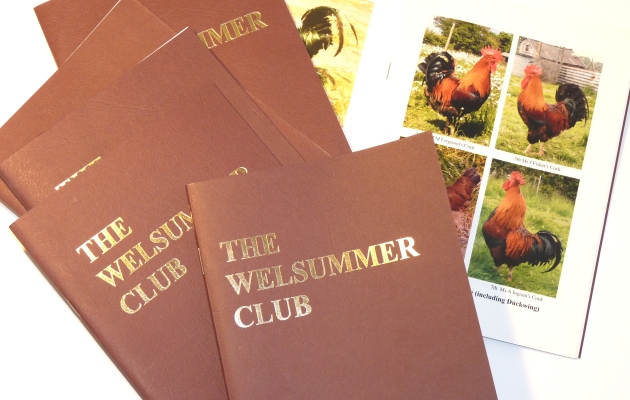 Scenario
The Welsummer Club was seeking a design and print partner that could take their club year book to the highest level in terms of visual representation, design, layout and quality of finish. The appointed partner would have to be willing to work closely with the year book editor, be infinitely flexible and accomplished in sophisticated use of design software; all of this within a strict budget.
Approach
Minuteman Press receive photography content for the year book throughout the year by email, which is acknowledged, collated and filed. The year book editor (and past President, Steve Barker) works closely with Minuteman Press for several months prior to production.
Content is edited by Steve and amendments to format, images and text are implemented by Minuteman Press. The book contains a combination of colour and mono imagery; fine reproduction is critical to illustrate the birds and their eggs as accurately as possible. Colouration is one of the most important factors in identifying the bird's quality contributing to it being promulgated as a worthy winner.
Welsummer year books are collectable. They are created in a defined editorial style to deliver a consistent classic visual and distinctive tactile result.
The Welsummer Club year book typically consists of 60 pages and its finished size is A5. The cover is printed offset in silver and black on claret Colorplan Embossed 270gsm stock and is subsequently gold foil embossed. The internal pages are printed on 130gsm gloss using offset and digital print.
The book is then machine collated, the cover double scored to provide a defined spine, stitched, trimmed three sides and hand finished. Production is 300.
Result
"I have used printers all my 40 year working life and I can honestly say that finding Minuteman Press has been a total revelation; a truly rewarding and pleasurable experience. The quality of the work Minuteman produced for me exceeded all my expectations, what more can I say. Their interest, care and attention to detail, when working to a tight budget is truly remarkable." concluded Steve Barker.
Revd. Edward Lobb – President of the Welsummer Club added: "To have such a fine production is an encouragement to all of us who are involved in the Welsummer Club."